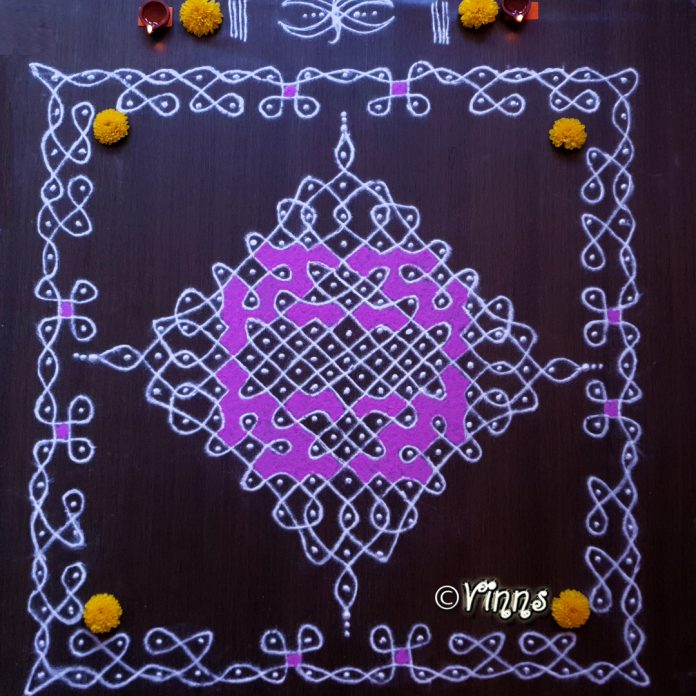 Margazhi Day – 2
An extended version of my previous kolam flaunting with an extra layer on the outer, to put it simple #araichamaavu 😁. And an addition of pink too joins the parade.
The evolution of colour kolam should have been in 80's, I suppose. And during that time period, the kolams were enhanced with colours only during Pongal season and most of the Margazhi remained immaculate in just white.
My mother's Margazhis were stunned with white kolams ie. in 1960's. I ain't clued up about other parts of Tamilnadu, here I refer to Pondicherry. She harks back that colours weren't pronounced in kolams as it weren't an entity then.
Still now Colours doesn't entice Amma as white does. She can dissect the texture of white kolapdi and the perfect ratio of arisi maavu – rice flour to be added for a flawless stroke. At times rava and maida too do constitute into the composition. I heed her feedback when new kolapodi arrives home.
And I too like Amma love to keep the kolams simple in White Only.
How many on my side?
@kolamenthusiasts
#reminiscing #ammakolam #kolamenthusiasts #rangoli #muggulu #margazhi #vinnskolam #kolam