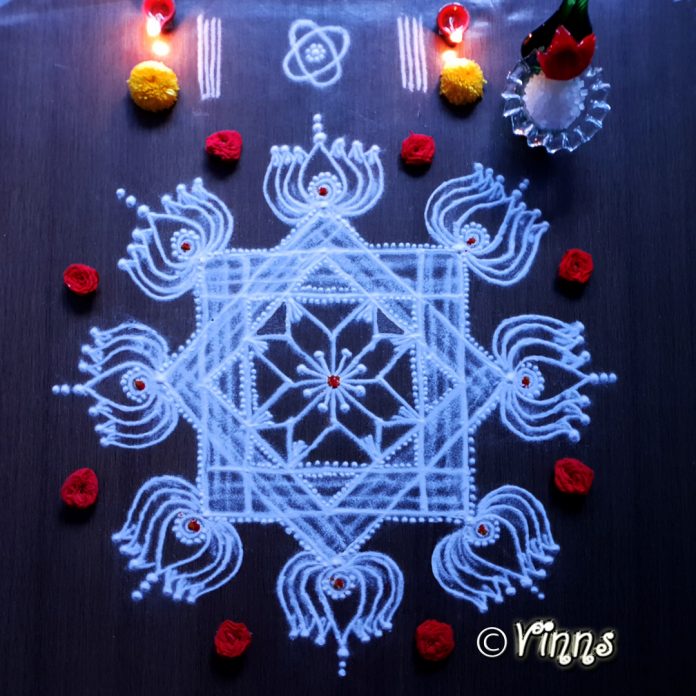 Aadi Pooram – The birthday of Andaal.
Video link of this kolam is given in the below link
ஐஸ்வர்யம் தரும் லட்சுமி கோலம்
Andal – The name synonymously gets linked to Andal's Garland.  The garland she wore is called "Thar" which is worn by Men. As Andaal had sported the garland on her, the "Thar Garland" retitled as Andaal's Garland. To me, the name Andaal epitomizes "Belief". She believed her dreams and finally reached the destination.On the same note, when we set our belief on the actus we choose, definitely victory will adorn us.
Atheist or Theist both have common word "The Belief" Theists believe in God and the other sect on the power of Universe or Belief on Oneself. Yet "Belief" prevails in both opposite worlds.
And viewers viewing this video, who have bound for a plan, keep your beliefs strong and you will reach your goal. My best wishes and prayers for you.
It is believed that Aandal is the reincarnation of Goddess Lakshmi so this  kolam is for Lakshmi.. In this kolam, I have set  Ashtadala Padmam (Lotus with 8 petals) at the centre and around to it two interlocked squares rotated at 90 degrees to each other. This forms a 8 pointed Star which is know as "Star of Lakshmi" And 6 pointed star is for Lord Murugan.
You may draw this kolam on Fridays in your pooja room or for any Lakshmi pooja to invoke the Goddess. Around the star I have added 8 lotus flowers which represent 8 Lakshmis, the Ashtalakshmi. All the elements in this kolam constitute the Lakshmi kolam.
This kolam is for Pooja purpose and can be drawn in the Pooja room.
How to perform Pooja
Draw this kolam
Adorn  the Andal's idol with Red Silk cloth
Offer Lotus strung garland.
For Neivethiyam offer Karkandu / karkandu satham (rock candy)
Red colour, Lotus flowers and Karkandu are most favorites of Aandal.
I have shared my knowledge and you may do pooja as per your family tradition. I have drawn the kolam as Padikolam, you may draw the padikolam as per your faith or else you may draw as two lines and fill with colours or draw with rice flour only.
On Aadi Pooram Draw this Lakshmi kolam, do your pooja and make your prayers. Prayers with belief are always answered. With these wishes I am wrapping up this post and see you all with a new kolam in my next post. Come, Let's Celebrate Life With Kolams !!!
Dot  Count :
1. dots in the centre column and 7 dots in 3 columns, ending with a single dot on either side.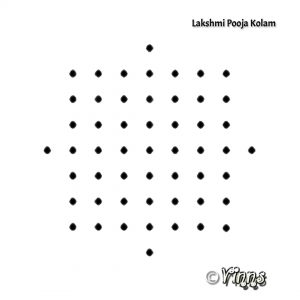 2. Draw Ashtadala Padmam at the centre.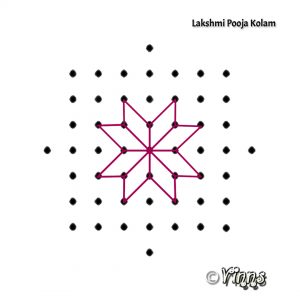 3. I have draw a two lined square encapsulating the centre flower.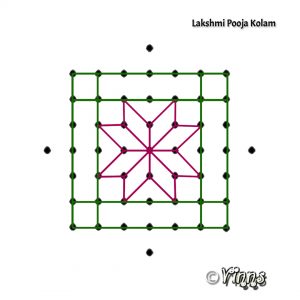 4. The second square is  drawn in 90 degrees to the first square. The two squaures form a 8 pointed Star, This star is called "Star of Lakshmi" You can draw this kolam for Lakshmi pooja.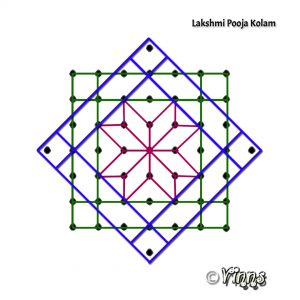 5. After drawing the sqaures, I have added 8 Lotus Flowers at the points of the star denoting the Ashtalakshmi.