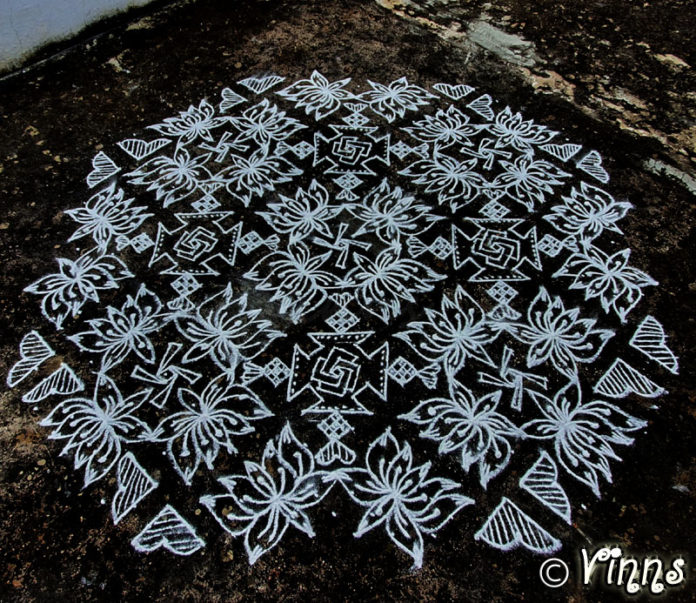 DARLING OF MARGAZHI 😊
This kolam is a sine qua of 1980's  without which Margazhii didn't get accomplished. .
.
We relocated to Tamilnadu in mid 80's and I still remember my first Margazhi season. On the first morning of Margazhi when I stepped out, I saw the whole street refulgently adorned by the gargantuan kolams outstretching the pathway and I was gombasked to see the  celebration. .
My neighbour Akka used to draw #kolams during the season in white which captivated me and from then my memory for Margazhi correlates to #WHITE. Akka in #pavadaithavani who was doing her college was my friend with whom I spend most of my time. More to her kolams, her accessories magnetised me, big umbrella shaped jimikis, stone studded lotus pendant chain and matching hair clips. 😊 China silk, disco pavadai thavani set….Fabric materials of 80's !!! .
Margazhi was wonted with big kolams predominantly #dotted configurations. The line kolams had patterns inspired from environs. The "S" , vegetables, flowers, butterflies kolams were hit all through Margazhi. Nostalgic!!!! .
For this Margazhi season, I coined my theme as "Pushing my Boundaries"
Line kolam isn't my cup of tea and to shatter the limits, I drew few #linekolams in white to exult the season. .
I chose 33 dots #Lotus kolam as the first in series, unequivocally, colossal #dotcount for a line kolam. Now I can kvell over my facileness on line kolams. I recreated digitally too where I have shared step-by-step images on my website.
Dot count  : 33×11-11, straight dot pattern