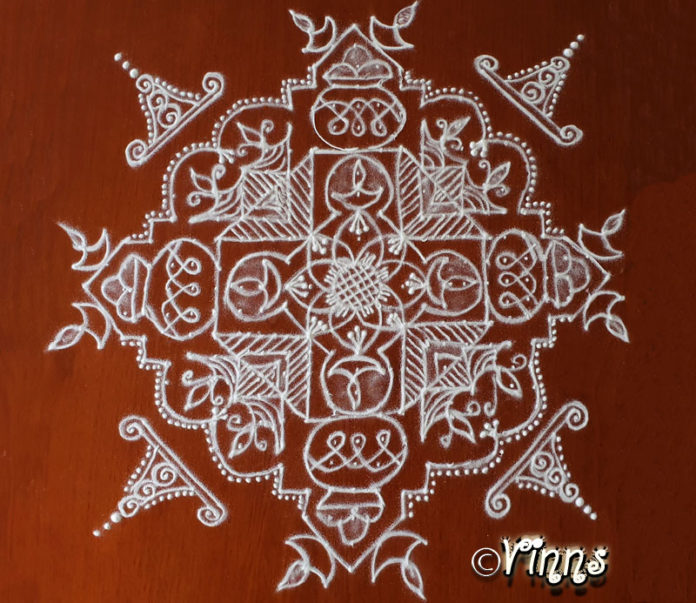 MAKARASANKRANTHI😊
The festival enkindles my childhood memories which bring in both jocundness and wistfulness.
My early life allies with a small town by name Bolarum located on the outskirts of Secunderabad, the nearest civilian burg to the airbase. My #rulesramanujam wanted me to get nurtured in faith and a disciplined school, so he chose a house near to my school. Well, not sure whether his mission got accomplished 😁
Grew up along with neighbour's 6 little girls whom were my frenemies 😄 And I had been a foster child to Santhamma Aunty, our neighbour, who never showed any difference between the 7 naughtiest rascals. I was nourished with butter and yogurt by her as they were into dairy business 😊
To me, Makarasankranthi memories hold with a start of goggling Santhamma aunty's big mat kolam which she created by slipping kolapodi through four fingers just like taking candy from a baby.
Her kolams adored only for festivities, still her kolams were perfect. At the centre of the kolam, with turmeric powder she drew a square in which she placed navadhaniyams and fresh grams for the birds to feed on. The main door frame got a veneer of turmeric paste with small kolams drawn on it, pidi pillaiyar on sides topped with arumgapul. Later we little gilrs helped her in kitchen for Sankranthi lunch. The ambrosial lunch served with plenitudinous ghee and cashew payasam still lingers in my memory. 🙂
The kite-flying was the main disport activity which we got engaged during the whole month of January. The nearby ground witnessed our prowess in kite-flying. We practiced different styles of kite-flying ie. sending a piece of paper to the kite from our end, engaged in kite fighting later retreating a fight, thrilled to catch the drifting kites and running for it…. Halcyon days 😊
A 25 dots for the second day of Pongal from my notebook with tweaks here and there again in white.
The second image was done 5 years ago while on a convo with my Amma about Sankranthi.