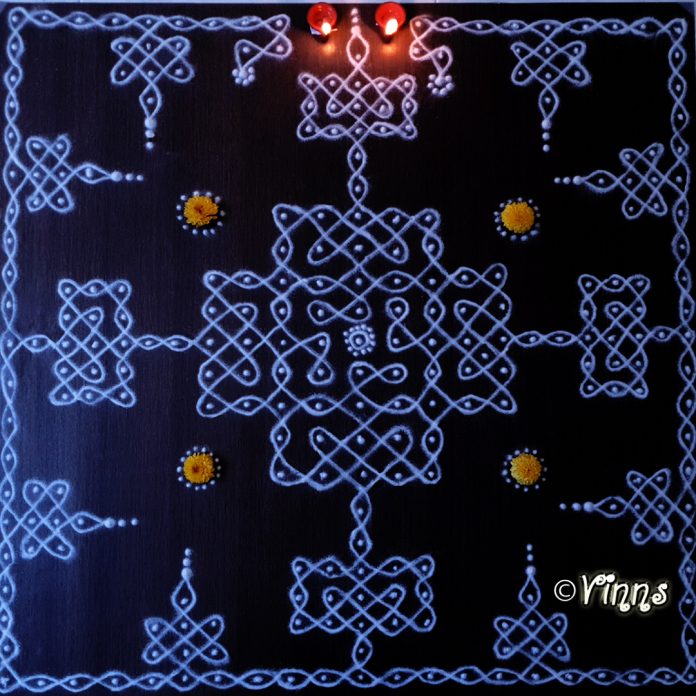 " "
A @kolamenthusiasts task to celebrate the memory of a kolam holding precious moments which deserves to be treasured.
And this is the kolam pattern which I would cherish forever. This pattern was one among 4/5 kolams which are always on call for an impromptu.
After my class ten, I was back to home from hostel life and mornings started at 5 for me as I had classes at 6.30. I took over the morning kolam drawing rite until Class Twelve. ..
The day dawned by Subratham breezing from the nearby Perumal Temple, bible verses read at the Church, and prayer call from Mosque. The unperturbed atmosphere led to ataraxia.
With serene mind, I drew kolams at the entrance. I sourced only sikku kolams from my Amma's notebook.
I can still call the smug to mind, the way I admired my kolam after drawing.
#aandava eppadi ennala ivalvu azhagaga kolam poda mudiyuthu
And time devoted for kolams peeved my Appa who chided me for wasting the mornings, later rebuked nothing stopped me as I felt the exuberance for the whole day.
Naama enniki sol pechu kettu irukom.
My Amma is my guru for kolams, neither has she given me classes nor put the screws on me to draw but accentuated when I drifted away from the principles of kolam syntax.
Her kolams were so perfect and the strokes were at her command, bold and seamless. Her favourite kolam was Vilvadhalam Kolam which guised like a freehand. Wish I had her calibre .