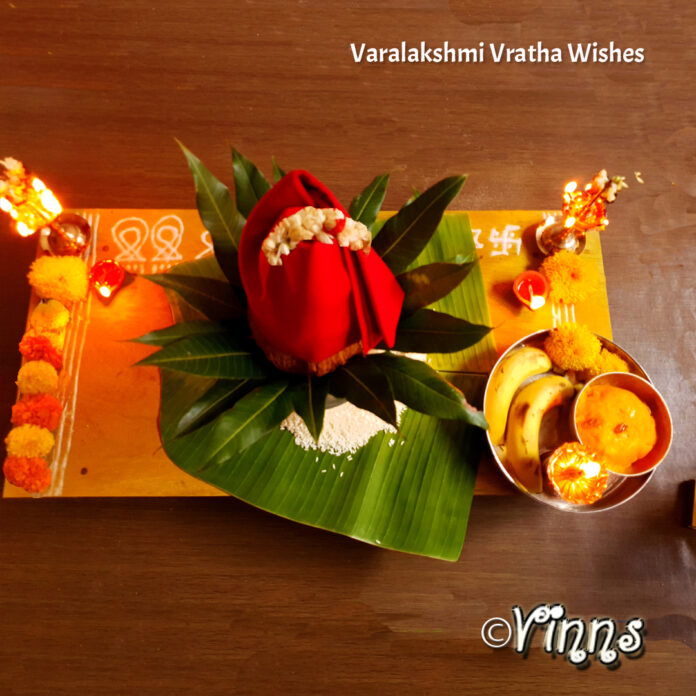 https://www.youtube.com/watch?v=VYg6WnTbpGE
click the above link for video of performing pooja and drawing kolam for Varalakshmi Vratham.
Varalakshmi  Vratham, Vara Mahalakshmi – Among Astalakshmi, Varalakshmi is considered as the powerful Goddess who blesses her devotees by granting their boons.  Pray to her and seek blessings.
There are few kolams which can be drawn on Varalakshmi Vratham and the link is given on the right top corner of the screen. You may click any kolam, a detailed drawing procedure and explanation is given in it.
For Varalakshmi Vratham, you may draw Ashtadala Padmam, Saharasdala Padmam, Aiswaryam Kolam, Hridhaya Kamalam, Star of Lakshmi and Lakshmi Kataksham Kolam.  I would like to put a Disclaimer to this post – In this video, I have drawn a kolam for pooja, you may follow this or as per your family tradition.
This post will exemplify the procedure of how to draw kolam in Pooja room on a new wooden stool.
This is a new wooden stool so I have cleaned with a wet cloth, later applied Turmeric paste on it. After Turmeric paste get dried, we can draw the kolam.
First draw 4 lines as we draw at the entrance or door frame, the start and end. The divine symbols are drawn as follows, first with Vishnu Padam, Lakshmi padam, Sudrashana Chakram, Sri, Conch, Ashtadala Padmam and Swasthik. Below I have drawn a Tulasi Brindavan and eathern lamps. For the meaning of
I have added Star of Lakshmi kolam as the main kolam.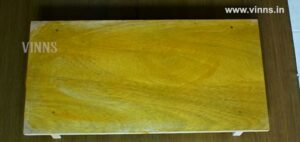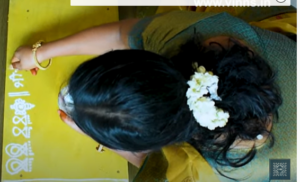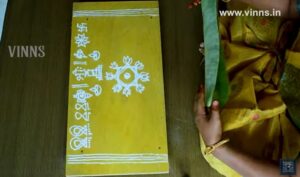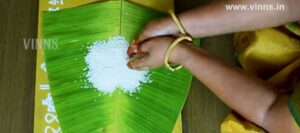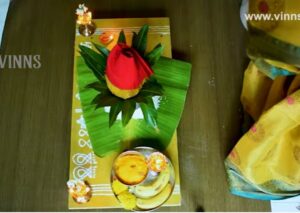 On the top of wooden stool, I have placed a banana leaf and added three handfuls of rice and place the kalasam, Do keep a flower on the top of the kalasam which I haven't shown in this video.
Place lamps, you may keep any type lamps, but earthern lamps are lit for Goddess Lakshmi so atleast place two agal vilakku. And offer your Neivedhiyam.