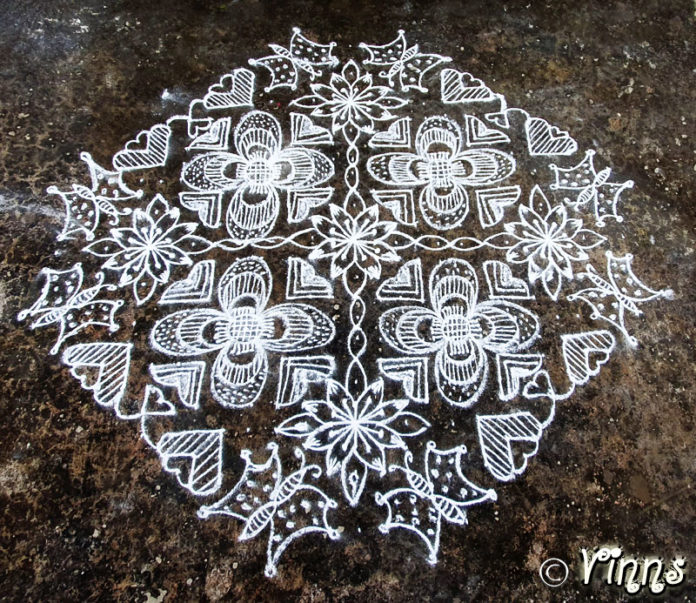 MARGAZHI MEMOIRS OF AMMA – DIY KOLAPODI 🙂
Today being Bhogi, I am reminded of my Amma's "DIY #kolapodi" which dates back to 1960's. .
The below tidings were shared by Amma on many occasions whenever the talks swirled around the kolams. .
My maternal grandma didn't draw kolams but fostered Amma's talent. She seconded her daughter to have the finest kolapodi for exhibiting the innate art on floor. .
My grandma hoarded big pebbles round the year which gauged around one foot. On the day of Bhogi when the set up for bonfire staged, the pebbles were placed at the centre to get baked out and out. The pepples reposed the entire night in the blaze to get metamorphosed. The next day out of its quietude emplacement with a new outlook took its stride to the grinding mill. .
The pebbles were cleaned to clear off the burnt outer layer and pounded into pieces, in hot state, if cooled the mass got solidified. The inner layer with sparkling white was triturated which was stocked up for the whole year and used only for occasions and Margazhi season. .
.
And to till date my Amma reminisces indulgingly about the texture and whiteness of the kolapodi.
Still that grinding mill perches behind our house as a souvenir for my Amma. .
This is common 27 dots kolam with 27×10-10 dots placed in straight pattern. A kolam which had its turn during the 80's Margazhi season. Again in white to rejoice the Margazhi season.