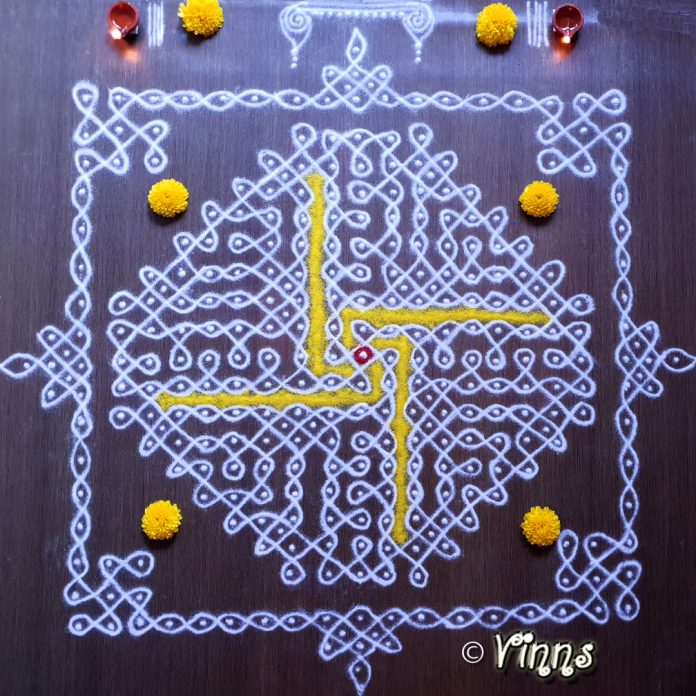 Click the link for video of this kolam https://youtu.be/D-gr-B_Y95Y
The much awaited season begins !!!
The vivid memories of my childhood Margazhi has my neighbour akka with tucked in pavadai bending down and drawing kolams. The kolapodi container in one hand and the other constantly refilling the powder done rhythmically and indeed was a beautiful sight.
Me – straight from bed with a jungly look, sitting on the verandah and vedikai paarking her concert!!! And of course with so many questions asked to her. Akka why this and that, etc ha haa..That's how the knowledge gets gained and I remember how my friends therichify when I do so !!! piravi gunam maarathu
And ofcourse drew gaurgutuan kolams with 11 dots for margazhi which had many rehearsals on paper, the day before. So organised was I then.
My Amma was quite an early riser and I haven't seen her drawing kolams much, though her resplendent kolams welcomed me when I woke up..
The next memory of Margazhi gets associated with wintry climate chilling the cheeks and nose tips .
And that's for today. Wishing all #kolamenthusiasts a Happy Margazhi and to me too
Few words about the kolam
Dot count : 17×5-5 with a sikku Swasthik at the centre for a propitious start though the theme had been Lotus for the group again #breaktherules
@kolamenthusiasts #kolamenthuisaststaskkolam