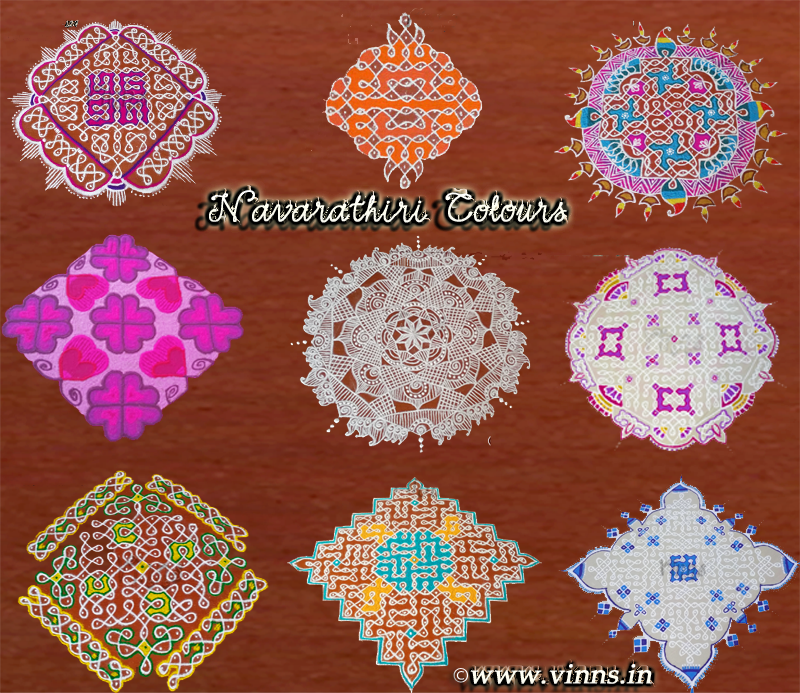 Navarathiri – The nine nights devoted to The Goddess Shakthi, the power. Navarathiri is celebrated twice a year, One in March-April and another in September-October. The second Navarathiri is celebrated with fervor and devour throughout India. It's a common saying that Men have only one night to celebrate"The Shivarathiri" while women have "Navarathiri", depicting that women have more importance and power than Men.
The following colour code is for coming Navarathiri 2016 kolams.
Pratipada – October 1, 2016 (Saturday) Grey
Pratipada – October 2, 2016 (Sunday) Orange
Dwitiya – October 3, 2016 (Monday) White
Tritiya – October 4, 2016 (Tuesday) Red
Chaturthi – October 5, 2016 (Wednesday) Blue (Navy Blue)
Panchami – October 6, 2016 (Thursday) Yellow
Sashti – October 7, 2016 (Friday) Green
Saptami – October 8, 2016 (Saturday) Peacock Green
Ashtami – October 9, 2016 (Sunday) Purple
Navami – October 10, 2016 (Monday) Sky Blue
Dasami – October 11, 2015 (Tuesday) Pink
Note – Pratipada tithi repeats on October 1 and 2.
The Goddess Shakthi is worshiped in different forms and names. The names and forms of Goddess Shakthi differ from region to region. I have compiled the names together.
Day 1
Durga, Parvathi
On the first day Goddess Shakthi is worshipped in the form of "Shailputri", known as the daughter of Himalayas. Shail – Himalayas and Putri means daughter, Daughter of King Himalayas. Also known as Parvathi. She is first deity to worship in Navarathiri.
This year it is GREY colour for the day. Any kolam with grey colour.
Day 2
Goddess known as Bharmachirini, Bhadrakaali
Goddess Bhadrakali is known for her generosity and her helpful nature. The colour is Orange for this day.
Day 3
Chandraghanta, Jagdamba
Amba as known in different parts of India and she is the slayer of the demon mahishasur according to the western regions of the country. The colour is White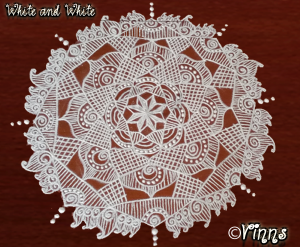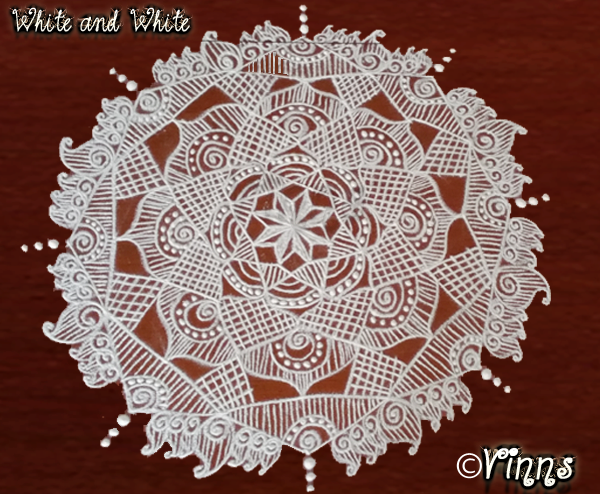 Day 4
Annapoorna Devi,Kushmanda
Annapoorna Devi is the mother of earth and food grains. She feeds her children and keeps them healthy. She is worshiped with Red.
Day 5
Sarvamangala,Skanda Mata
Skanda Mata is referred to mother of Lord Murugan/Karthikeyan. The colour for the day is Navy Blue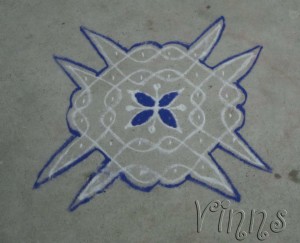 Day 6
Bhairavi, Katyayani, Chamundeshwari
Day 6 is dedicated to Bairavi and worshiped in Colour Yellow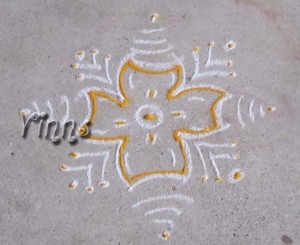 Day 7
Chandika, Devi Chandi, Maa Kalaratri
She has looks of Kaali with dark complexion, disheveled hair and a fearlessness posture.
Its GREEN colour for the day.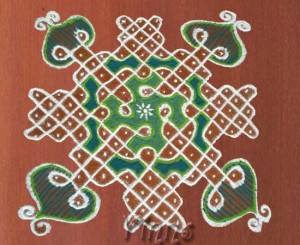 Day 8
Tripurasundari, Lalitha, Maha Gauri
Tripurasundari – The Goddesses of 3 worlds, Shodashi – the Goddess who signifies youth, Lalita – who signifies childhood and Rajarajeshvari who is the Queen or the ruler.
The colour is PEACOCK GREEN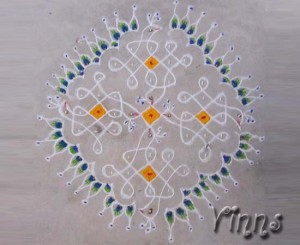 Day 9
Bhavani, Siddhidatri
The colour is Purple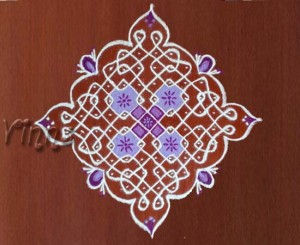 Day 10 is celebrated with Sky Blue  colour. Click below for Blue kolams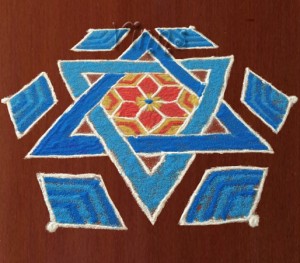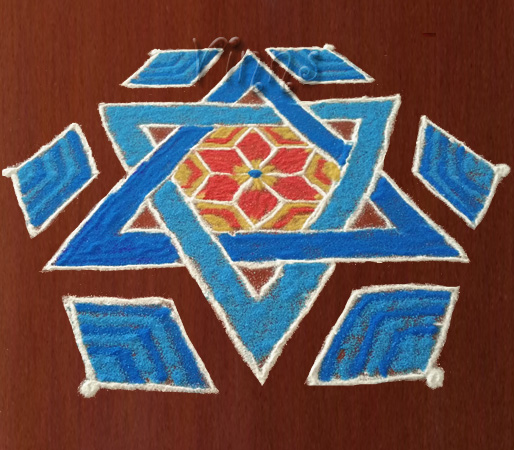 Day 11 is celebrated with Pink colour. Click below for pink kolams