Collection of Freeahand Kolams. In this posts there are four freestyle kolams which have a six petalled flower as the base design. Though the start seem to same but they differ as a whole.

Kolam No.1

The below design starts with a flower and later gets added with another layer of petals around the first layer of petals. From the second layer six minarets are surrounded to make it look bigger and the minarets are filled with lines. For the final layer triangles get into action and filled with cross line and small detailing inside the squares completes the kolam. This is a simple, yet can be made grand with the addition of colours or kaavi.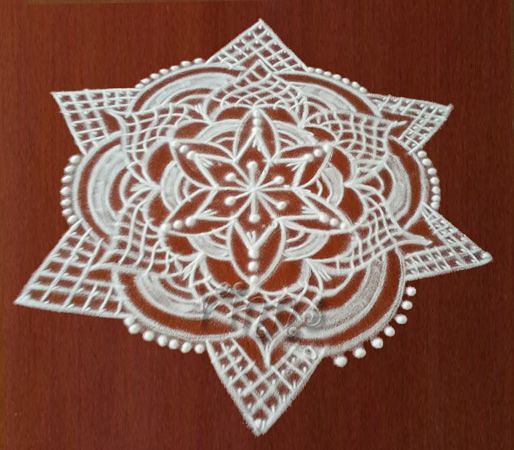 Kolam No.2

A simple yet appealing kolam which can be done at doorsteps of apartments. Started with a six petal flower and formed an oval shaped elements in between the petals giving an embossed effect by the concave lines. Later enclosed with triangles and shaded with white kolapowder. This was done in somewhere in 2014 and I guess I was much obsessed with Paisleys and Paisleys always make their presence in most of my kolams, Now I have refrained myself from including Paisleys in my kolams, yet they appear without my permission 🙂 I love this design for the outer layers of Paisleys adoring the kolam and lists in my favourite kolam list 🙂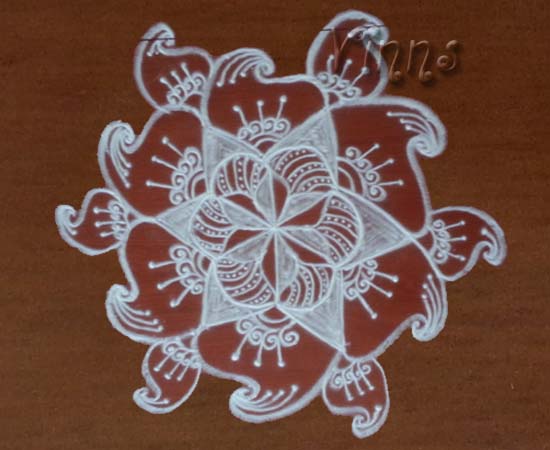 Kolam No.3

Again a kolam with six petal flower as the base design and the irresistible Paisleys 🙂
The enticing Paisleys made their appearance in the first layer. I didn't give any extra detailing inside the Paisleys, left them unattended and moved on the next layer where the minarets were enclosed by curvy shapes. Gave a detailing just like a Mehendi/henna filling and drew an outline. Well the alluring Paisleys made their existence in the outer layer to complete the kolam.

Kolam No.4

This is the recent most kolam done in March. I planned to do a big kolam but couldn't proceed as time was ticking away to fetch my daughter from school. Formed a star shape around the flower and enclosed with lines and fillings around. A simple kolam yet captivating one 🙂