A collection of star kolams done on different days. The kolams have star and done in white rangoli powder and that make them to get into a single post.
A small freehand kolam with star as the base design. A simple kolam done at the spur of the moment. Tried to enhance with dots and swirls around to make it look grand.
A simple kolam to attempt. I actually thought of adding colours to this kolam, but lack of time didn't allow me to proceed further. You may add colours to it 🙂
Kolam No.2
A freehand Star kolam done in white. A small kolam, still I liked it after drawing. Actually I tried to test the new kolapodi I brought back from home. And to try, tried a kolam to get to used to the texture of the powder.
After drawing a star design, just as usual extended by adding an outline and shading with cross lines.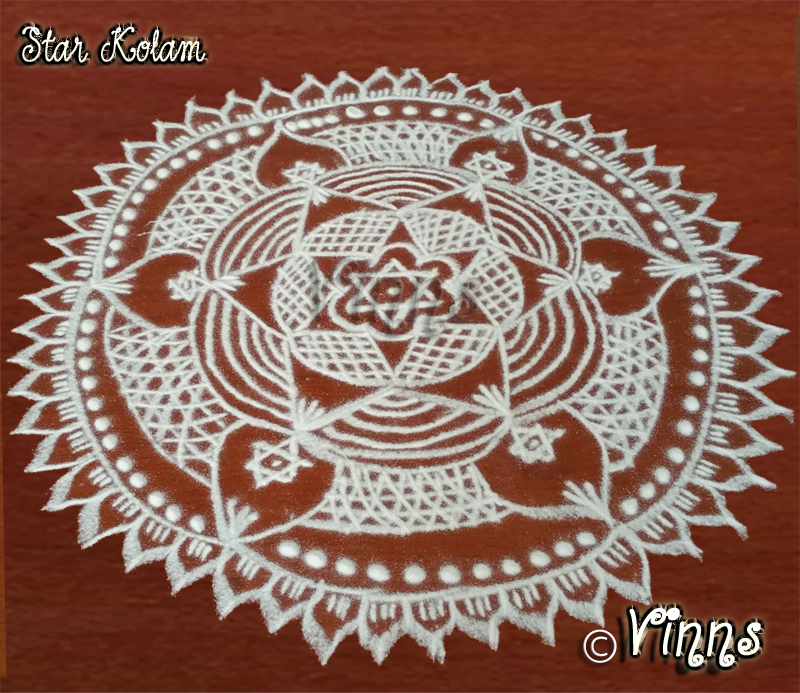 Kolam No.3
A small kolam with star as the base design. I had done this kolam long ago and didn't upload. Today happened to see this in the gallery and tried to compile into a single post.