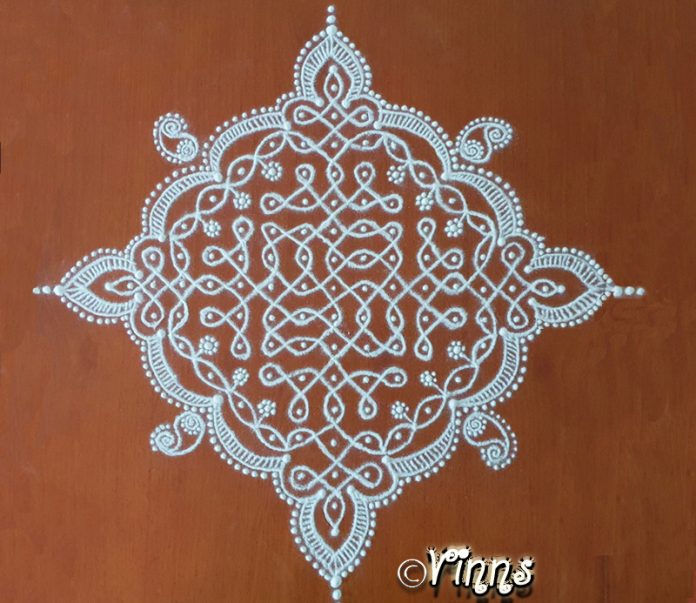 This is a 15 dots sikku kolam. Place dots with 15 on the main column decreasing 2 dots until it reaches 1 .
After drawing the kolam you may fine few dots unconnected, just draw a circle around it as I have done it or wipe it.
"AMBIVALENCE"
Sunny and crestfallen…..
.
.
.
A jubilant moment as today the number has totted up to 1000 on my Instagram handle. A big thanks to all of you on my space for your presence and peeking my creations. 2016 January had recorded my first kolam yet took 4 years for me to be perky on Insta 😊. .
The second cheery instance was the IG live with @thelotusshakti. We twinned for #geminikolam. And we shot the breeze on live. My first live ever on IG and that gave me a kick 😊 .
The live was a cruise yet the final part wrecked the whole show. Somehow while saving the live, it didn't save the either way .. should have been a glitch or my benightedness of the technology, not sure, conclusively the live isn't available on the account 😖😖 and I am down in the mouth. 😣😣 . .
Coming to twinning, we concurred with this small 15 dots kolam as I had to draw the kolam beforehand making sure that there was adequate time for Hema. My kolam can't lounge for longer time so that was another reason for a #kutti kolam 😊
After a while, when she sent her kolam across, at the first glance I was addled to see a kolam of mine again. 🤔
Well had to take a closer look to perceive that it was her version, through and through a perfect twin to my kolam.
Kudos to your perfection Hema 😊
.
A day to remember 😇😇😇